Better long breath than hot air
You have already gained experience and are now looking for a new challenge in consulting? We offer you a long-term perspective and the opportunity to shape your career path individually with us.
What is important to us? We are looking for new TRUE CHARACTERS and thus for bright minds who want to take on responsibility and actively shape our company's development. We offer you the necessary framework to develop yourself personally. For example, do you want to take on management responsibility and/or acquisition?
YourBenefits at 4C
What senior consultants value with us:
Taking on responsibility as a sub-project leader at an early stage, e.g. content management responsibility for small teams (students / consultants).
Learning from experienced people, i.e. taking on more control and planning responsibility for projects in close cooperation with experienced people.
Individual career paths with personal development and TRUE prospects as a manager or expert
What managers value with us:
Helping to shape the corporate development of 4C
Easy work-life balance
Acquisition, an option but not a must
Uncapped variable salary component
Possibility of disciplinary management responsibility
Employee participation programme
Company car
Health check from the age of 35
Our current Positions for (Senior) Professionals
Even if the right position is not currently advertised here, you are welcome to apply on your own initiative. We are always looking for experienced employees. The best thing is to let us know directly which specialist area interests you.
We work with fixed salary ranges:
Auf At the level of Senior Consultant with partial project responsibility, the salary range starts at 65 TEUR fixed p.a. and a bonus of 5 TEUR bonus per year is added.
At the Managing Consultant level, a step up to Manager, the salary range starts at 85 TEUR fixed plus 6 TEUR bonus per year.
Managers who take on full responsibility for managing projects and can also support acquisition, the band starts at 95 TEUR fixed p.a.. In addition, there are three bonus components that are not capped.
Senior managers at 4C take on an active leadership role in the competence centres in addition to their project responsibility. Their fixed salary is between EUR 110 and 130,000 p.a. plus three uncapped bonus components.
Professionals
Become part of our 4C team now and apply right here! By the way, you can also send us an initiative application at any time and we will work out together your best fit into the team. We look forward to meeting you!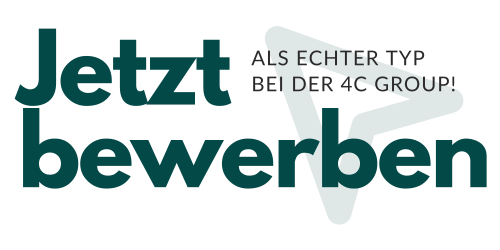 By the way: You will find us and our 120 colleagues at four locations in Germany and on projects - remotely, at 4C Offices or at clients in the DACH region.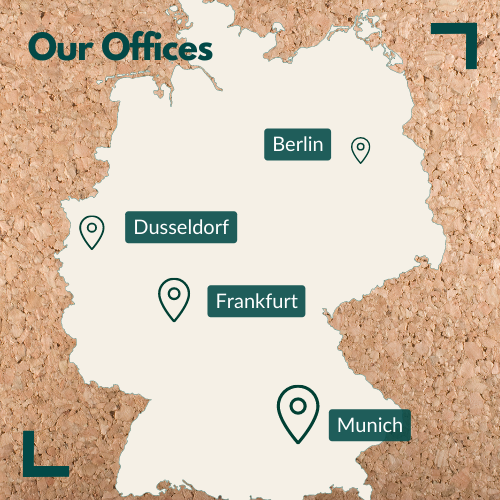 Dich interessiert wer hinter unseren ECHTEN TYPEN steckt?
Lerne ein paar unserer Charaktere kennen und erhalte einen Einblick darüber, welchen Weg sie bei ihrer Entwicklungsexpedition eingeschlagen haben.
+