Digitization, Chief Digital Officer - what has changed?
Whether a corporate group, a large corporation or an owner-managed company - everyone has to face the "digital age" with its complex challenges. New, digitally affine target groups demand offers that are simple and well-connected and that make use of new technologies in a "use case" specific way. As a result, industry boundaries are becoming blurred and new business models and competitors emerge. What was elementary yesterday may be marginal tomorrow.
Development of customer-centric and networked business models
This dynamic further drives complexities within the organization as well as in interaction with partners. The new initiatives must be connected and managed in a synergistic way with the existing core business and beyond the boundaries of the company. This requires not only creating the right framework conditions for implementation, but also embedding these sustainably in the organization and culture.
This is also shown by the development of the role of the Chief Digital Officer (CDO) - originally intended as the central driver and "chief" of digital initiatives. With the impetus for digital transformation, the role model is shifting and the scope of responsibilities now includes various roles and areas within the company. This illustrates that digitization is not (any longer) a single discipline, but is becoming part of all corporate functions and will only be successful in the long term if it runs through the entire organization and is coordinated and implemented holistically.
There is no ideal and chronological path to customer-centric and networked business models. The individual company situation and the level of digital maturity determine the different courses of action. To classify and structure these, we focus on three central value creation stages on the "journey" to customer-centric and networked business models.
Our best practices for the CDO
Our approach for successful digitization
+
Selected customer references
Use Cases
+
Digitale Stadt München
Since 2018, 4C GROUP has been a member of the association Digitale Stadt München e.V.
+
Since 2018, 4C GROUP has been a member of the association Digitale Stadt München e.V., a cross-industry network in the Munich area. Through various formats and events, the association offers its members a platform for regular exchange. As a member of the association, 4C GROUP benefits from, among other things:
Cross-industry discussions on the current challenges in the digital transformation and the solution approaches of the member companies
Access to knowledge and assessments on digital and innovative trends and developments from different perspectives
Establishment and strengthening of partner relationships within and outside the industry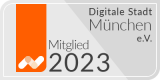 Our experts for CDO Advisory
Get in touch with us through Xing or LinkedIn
+
"
"4C GROUP and the digital business team around Felix Hesse supported us in developing new growth areas in the shortest possible time and preparing them "investor-friendly". What I really appreciate about the collaboration is their intuition for new technologies and trends as well as the derivation of customer-centric use cases, paired with pragmatic implementation competence - which is especially crucial for us as a startup. In addition, 4C acts as a strategic partner for us in the expansion of the API platform. Here we benefit greatly from their innovative character and implementation excellence in the corporate environment."
Werner Kräutlein, CEO and founder WechselGott GmbH
"
"The cooperation with Felix Hesse and his colleagues was extremely enriching for my team and me on several levels. The 4C GROUP combines very good methodology with a high degree of individualisation and adaptation to the needs of the client. The colleagues work very precisely, reliably and bindingly. The work results are very rich in content and consistent. They are very appreciative and accommodating, despite all their goal orientation, which makes the cooperation pleasant for all project participants. And decisive for their mission - they bring along knowledge, ideas and impulses, thus enriching the process of strategy design or the detailed preparation of a development project with important aspects of content."
Marta Steib, Leitung Workstream Kanzleimanagement at DATEV eG