Digital Transformation
Succesfully implementing Digital Transformation
Digital Transformation is far more than new IT solutions; it means putting the customer or employee at the center, rethinking processes, reorganizing the organization, giving agile teams decision-making authority and working on a common vision in a transparent environment. Technology is only a tool to enable lean processes.
Why is Digital Transformation important?
In general, three reasons are given for the necessity of Digital Transformation in a company: strategy, money or laws.
The strategic orientation decides where you steer your company in the next few years. Do you want to stick to your current business model or take a new direction in order to react to the (coming) demand in the market? The change of business model can be manifold, from producer and seller of capital-intensive medical devices to provider of a medical service or from mail order company to logistics service provider for the former competition. The change of a business model is designed for the long term and fundamentally changes companies.
If you want to influence your Bottom Line in the short or medium term, the question of your desired perspective arises. With an internal focus, streamlining and (partially) automating your internal business processes is the first choice. Even with small projects, considerable cost savings can be achieved - e.g. by switching to an ePayslip in payroll accounting. Instead of the customer, the employee and the process will then move into focus of Digital Transformation. Communication with customers and suppliers from an external perspective is also subject to process costs, which you can reduce by optimizing processes and using suitable technology - e.g. by using an option for secure data transmission beyond the boundaries of your own company. Since the possibilities are manifold, the desired perspective should always be aligned with the overall strategy of your company.
Sensitive fines can be imposed if legal regulations or guidelines are violated, e.g. the DSGVO or, in the financial environment, PSD2. Here it is necessary weighing the priority of certain topics. But even in transformation projects with the aim of avoiding fines, it is important to focus on the user, employee or customer. This is the only way to ensure that an implemented process or software can be used to effectively protect your business. Because the safest process is useless if it is not lived by the employees or accepted by the customers.
How can Digital Transformation be initiated?
The focus of the Digital Transformation is the human being, i.e. your employees, partners and customers. Digital Transformation is only successful if people recognize the benefits of the technology and at the same time perceive it as user-friendly. This means that while a solution objectively delivers a benefit, if users either do not perceive it as helpful or not as user-friendly, the actual use of the solution can be jeopardized, even if there is an impressive technology behind it. In practice, this results in creative workarounds of users, which often involve high risks. Consequently, it is therefore essential to orient the technology to the tasks and needs of future users and to focus on maximum value and user-friendliness. Here it is necessary to work out which tasks can be performed with the help of technology - develop a value proposition that creates real added value.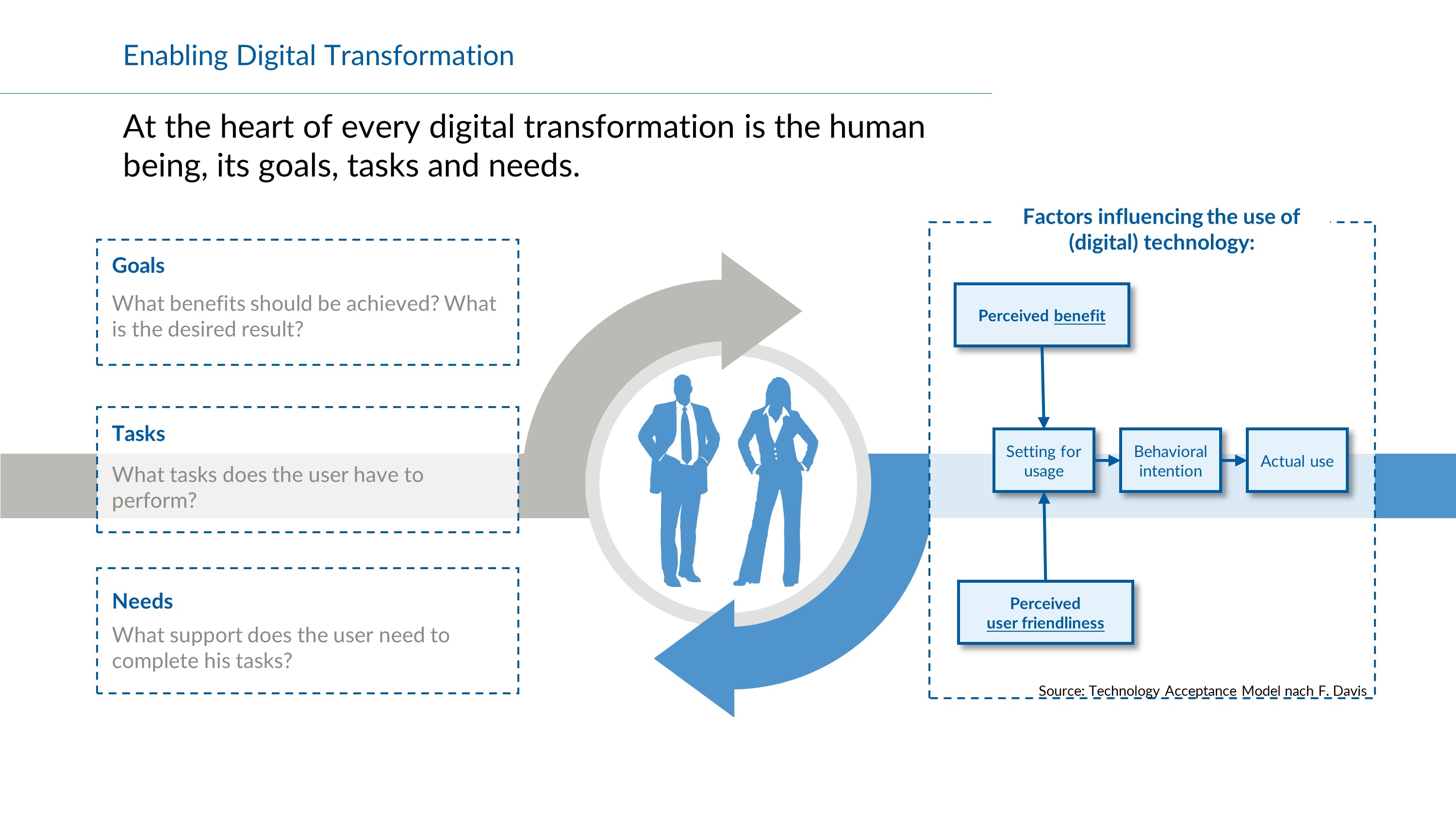 No matter for what reason you want to digitize, we help you to successfully design and implement the transformation.
How can 4C help you with Digital Transformation?
1. Redefine internal processes focusing on the employee to reduce process costs and increase efficiency:
We analyze which internal processes have the greatest need for optimization and identify user-centered optimization potentials.
After prioritization, we ensure consistent implementation and integration in the organization. In case you wish to introduce digital tools as part of this process, we will support you in the selection of suitable providers and the development of an effective service delivery model.
2. Rethinking external processes with customers and partners to realize efficiency gains or revenue potential:
In addition to the measures of internal processes, we expand the procedure to include your external partners. The aim is not only to reduce costs, but in particular to simplify cooperation with both customers and suppliers in order to increase the attractiveness of their partnership and strengthen the relationship in the long term.
3. Developing new customer-centric business models to secure your company for the future and ensure long-term success:
Together with your management team, your employees and your desired target group, we develop new value propositions and business models in an iterative, moderated process. To validate the business models, we develop a suitable business case and test the business model with a Minimum Viable Product (MVP) over a limited pilot period. Through our technology partners, we also offer you the opportunity to develop digital technology tailored to your needs in short iterative steps, agile from a single source.
Our E-Booklet about Digital Transformation
Our experts for Digital Transformation
Get in touch with us through Xing or LinkedIn
+