Corporate Liability Act - "VerSanG"
The time has come: A new law for sanctioning companies is as good as passed. The German Act on Administrative Offenses (OWiG) has long been criticized for not being suitable for sanctioning companies. There have already been countless debates surrounding the introduction of a corporate criminal law. Now the time has come. The draft presented on September 18, 2020, at the heart of which is the German Corporate Liability Act (VerSanG), has been largely confirmed by the Bundesrat. This means that nothing stands in the way of the law being passed in the near future. That is why everyone who has not already done so should take a detailed look at the main contents and changes.
Why is a law to sanction companies needed?
With the draft bill "Gesetz zur Stärkung der Integrität in der Wirtschaft" the German government has paved the way for a law that will have far-reaching consequences for companies. The draft relates to all companies whose business purpose is aimed at economic business operations. It is expected to be announced promptly in 2021 and come into force two years thereafter. This is intended to give companies time to prepare for it and take the necessary measures. Among other things, the VerSanG is intended to create a proper legal basis for sanctioning company crimes, establish legally sound assessment rules for fines, and strengthen incentives for investing in compliance. But why is this necessary?
Currently, sanctions are still imposed on companies in accordance with the German Act on Administrative Offences (OWiG). However, this law has various loopholes that make it very difficult to impose proper sanctions. It lacks both proper assessment rules for fines and any approach to promoting compliance measures in business. In addition, it sets a maximum sanction of EUR 10 million. This leads to a severe disadvantage for small and medium-sized companies in particular, as large corporations can usually easily cope with the maximum sanction or "feel" it less. As a result, the fine can hardly act as a deterrent and contribute to reducing violations of the law. Another problem with the OWiG is that prosecution is at the discretion of the responsible authorities (opportunity principle), i.e. the respective authority can decide for itself whether to pursue a company crime, or the suspicion thereof, further. All this and more is now changing. This is because the VerSanG both remedies the abuses of the OWiG and creates a new basis for sanctioning, but also recognizes measures for compliance with rules, such as effective compliance management systems. As a result, sanction-mitigating measures will be established in a law for the first time.
Who does it affect and what needs to be considered?
The VerSanG enables new and more stringent sanction measures for associations ("Verbände") whose business purpose is geared towards commercial business operations. Associations with a non-profit purpose will continue to be subject to the OWiG. The VerSanG defines associations as legal entities under public or private law, associations without legal capacity and partnerships with legal capacity. This means that small and medium-sized enterprises, for example, can also be considered associations, which means that the new and stricter sanctions will also apply to them if a company crime is committed. But what exactly is hidden behind the term company crime ("Verbandstat")?
A company crime describes criminal acts by which the association's duties have been violated or by which the association has been or was intended to be enriched. These are imposed if person of the senior management of the association has committed a company crime or could have prevented or impeded it through a lack of precautions in the area of organization, selection, guidance or supervision. It is important to note here that it is sufficient for a company crime to be established that it has occurred in the company. It is not necessary for a specific perpetrator to be known in order for an offense to be prosecuted. Company crimes include:
Tax offenses (e.g. tax evasion, illegal employment)
Environmental offenses (e.g. violations of the Immission Control Act, Chemicals Act)
Compliance offenses (e.g. violations of Securities Trading Act, Banking Act, Money Laundering Act)
Property crimes (e.g. theft, property damage, fraud)
Competition offenses (e.g. price fixing, industrial espionage, corruption)
Occupational safety offenses (e.g. industrial accidents caused by negligent conduct)
In principle, any person who holds a managerial role counts as a performance person ("Leistungsperson"). This includes:
Member of a body authorized to represent a legal entity
Member of the board of directors of an unincorporated association
General representative and, insofar as he or she holds a managerial position, an authorized signatory & an authorized agent of an association
Any other person acting responsibly for the management of the business or enterprise of an association (incl. supervision of the management or other exercise of controlling powers in a managerial position)
Thus, for example, board members of an "AG" or members of the supervisory board, managing directors of a "GmbH" or a "Komplementär GmbH & Co KG", general partners of a limited partnership, shareholders of an "oHG" and compliance or money laundering officers are potential perpetrators of a company crime.
What do companies have to be prepared for?
The VerSanG is intended, among other things, to create a proper legal basis for the sanctioning of company crimes, to establish legally secure assessment rules for fines ("Verbandsgeldbußen") and to strengthen incentives for investment in compliance. To achieve this, existing sanction options have been adapted or tightened and new sanction options have been created. Reduced to the essential points, the current draft of the VerSanG contains the following changes:
Monetary sanction ("Verbandsgeldsanktion")
For the appropriate punishment and deterrence of company crimes, the maximum sanction for intentional company crimes for companies with sales of more than EUR 100 million is increased from EUR 10 million to up to 10% of the average annual sales. In the case of negligent association data, these companies must expect a financial penalty of up to 5% of the average annual turnover. This means that large companies in particular, which may have hardly been harmed by the previous maximum, are now at risk. 10% of the average annual turnover is no longer a negligible fine, but can in serious cases lead to a considerable economic burden and even to insolvency.
The legality principle ("Legalitätsprinzip")
The opportunity principle is replaced by a prosecution obligation, the legality principle. This means that the responsible authorities are no longer free to decide for themselves whether an company crime or suspicion thereof should be investigated, but are obliged to initiate investigations.
New sanction instruments/measures
As a new sanction option, the draft law provides for a warning with the reservation of a fine and the possible publication of a conviction. The former allows a company to be warned by a court determining but not yet imposing a monetary sanction. The warning may be subject to conditions and/or instructions. With the help of the second, the court can decide on the public announcement of a conviction. In the event of publication, an entry is made in a so-called association sanctions register and can thus be viewed by the public.
Sanction mitigation measures
Although sanction mitigation measures have already been recognized by the highest courts upon proof of effective measures, they have never been established by law. This is now changing. According to the VerSanG, effective compliance measures and internal investigations that make a comprehensive contribution to clarifying the company crime are to have a mitigating effect on sanctions. If a sanction-mitigating circumstance is recognized, the fine can be reduced by up to 50% and publication of the conviction can be excluded.
Thus, the law would potentially allow for significantly harsher and more extensive sanctioning options than the OWiG. In the past, companies have sometimes accepted certain compliance risks and due to the current legislation on sanctioning and optional prosecution, often ended up deliberately ignoring these risks or even considered it more economical/beneficial to consider criminal offenses. So, as of now, this can not only cause far-reaching financial damage for companies, but also cause lasting damage to their corporate image. Therefore, companies today are thus made to set up and implement effective compliance management systems.
How can sanctions be prevented or mitigated?
For the first time, sanction-mitigating measures are included in a draft law. For example, the draft law provides for the sanction-mitigating effect of effective compliance measures and internal investigations that make a comprehensive contribution to clarifying the company crime.
When determining the amount of the sanction, authorities take into account, for example, the precautions taken to prevent and detect company crimes, the association's efforts to uncover the offense and to make amends for it, and the precautions taken subsequently to prevent and detect further offenses. The compliance measures required for this purpose should depend on the type, size and organization of the company, the hazardous nature of its business, the number of employees, the regulations to be observed and the risk of their violation. In other words, only an effective compliance management system (CMS) adapted to the individual compliance requirements of the association can lead to the hoped-for reduction in sanctions. In line with the VerSanG, a new international standard, the CMS certification standard ISO 37301, is currently being drafted. This is to replace the current ISO 19600. Both standards deal with the development, implementation and maintenance of a CMS within an organization. The difference between the two standards is that ISO 19600 is a Type B management system standard, and ISO 37301 is a Type A requirements standard. Unlike Type B standards, Type A standards are certifiable. This enables companies to have the effectiveness of their compliance management systems certified. This means that mitigating circumstances can also be recognized in the event of an association sanction.
Apart from compliance measures, internal investigations play another important role. Here, too, mitigating circumstances can be recognized, provided that the internal investigation makes a significant contribution to clarifying the company crime. In addition, the authority can refrain from prosecution until an internal investigation has been completed. However, certain requirements must be met for an internal investigation to be recognized. In addition to the fact that it makes a significant contribution to clarifying the offense, it must be conducted by independent third parties and comply with the principles of a fair trial. In addition, documentation obligations regarding the results must be complied with and comprehensive cooperation with the prosecuting authorities must be ensured.
How can we support you?
The VerSanG is coming, will be here soon, and will not go away. Therefore, take a close look at your compliance-relevant processes and systems. Not only to protect yourself from high financial sanctions and to avoid image damage, but also to know, evaluate and actively manage your individual risks. This is the only way to make a sustainable business model work.
It has never been more important to be properly positioned in compliance. Processes and systems must be analyzed for compliance risks, compliance due diligence must be given considerable importance, and all this before the new law comes into force.
We support you in analyzing your current compliance risks as well as in designing and implementing preventive measures, such as setting up and developing compliance management systems. Based on our expertise and many years of experience in the implementation of risk & compliance projects, we know how to effectively identify compliance risks and at the same time define measures to prevent the risks in a targeted and successful manner.
Green Finance and the new relevance of Compliance
Info Session on the Corporate Liability Act
Exchange with Compliance Experts of Deutsche Bank
+
What significance will Compliance have in the future? What's the German Corporate Liability Act about and what does it mean for companies? 4C experts Dr. Heiko Mauterer and Daniel Lovric discussed these questions with compliance experts from Deutsche Bank. A great opportunity, as banks have a lot of experience in meeting regulatory requirements. The most important takeaway from the info session for us is that especially for industries that were not heavily regulated in the past, the new Corporate Liability Act will become relevant.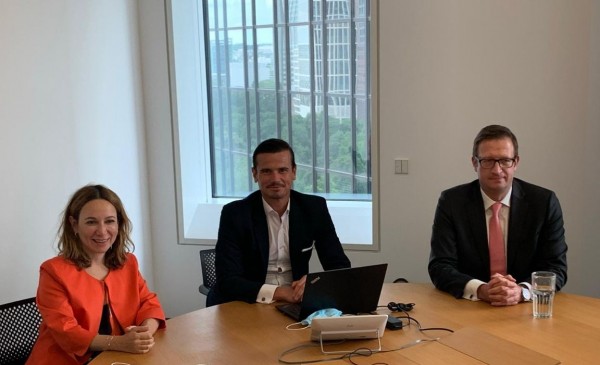 Our broschure for the Corporate Liability Act
Learn what's behind the new association sanctions law in our e-booklet
+
Our experts for the Corporate Liability Act
Get in touch with us through Xing or LinkedIn
+